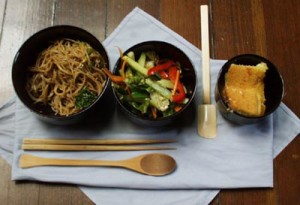 ZCOC offers several programs:
A workshop or presentation on Zen and Eating, Oryoki and Mindfulness is available.  It can be held at the Zen Center, or at your event. Please contact the Zen Center for information.
2) Individual sessions on mindful eating for weight management are also available.  Zen awareness practices can be specifically applied to eating.  Register below, and we will contact you to set up and mutually convenient day and time.
3)  More on Oryoki:
Though rooted in a tradition hundreds of years old, the  principles of the oryoki Zen meal are relevant to today's food culture:  being attentive to every aspect of eating, preparation and food production;  favoring local, organic and seasonal foods;  eating just the right amount; concern about ecology and sanitation; and gratitude for our daily sustenance.
The meaning of the Japanese word oryoki is explanatory:  the "O" means the receiver's response to the offering of food; "ryo" means "a measure or amount," and "ki" refers to the bowls.  Eating bowls have been used my monks in China and Japan for centuries–The Tea Ceremony (Chanoyu) emerged from the full meal of oryoki.
The formal oryoki may be viewed as a beautiful, intricate ceremony, but "oryoki" can also be done without bowls, by anyone, anywhere!  Learning to eat with awareness–the essence of oryoki--is a practice suitable for anyone who wishes to better appreciate and enjoy food, to improve health, to manage weight and nutrition,  and to restore balance.
The workshop includes:
Presentations, discussions and reflection
Guided participatory experience of oryoki
Vegan meal (lunch)
Resource folder
Use of oryoki set (for those who do not have one)
Purchase of oryoki is optional