Mindful Loving: Zen & Relationships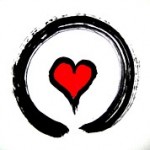 Sunday, Sept. 8, 2013, 1:30 pm to 4
This workshop will address how meditation and mindfulness practices can deepen and improve each person's relationship with myself, my spouse or partner, family and friends, colleagues and community.  The quality of our relationships is a litmus test for the maturity of our awareness and understanding.
This workshop will explore how to utilize mindfulness practices and Zen awareness meditation to enhance appreciation of  relationships and to serve as a resource for conflict and barriers.   The larger vision of relationship as a spiritual path and practice will be explored.   The workshop is for both couples and individuals.
Topics will include:
Being present to another person and the moment
Skillful practice with difficult emotions:  irritation, disappointment, boredom, etc.
Deep listening
Being friends
Working with loneliness, "needs" and desires
Beyond "self" and "other"
Maturity
Passion and Compassion
Intention & vow
The workshop will consist of presentations, guided discussions, and meditation and reflection periods
For information about the workshop leaders, click here
*Certificates of Course Completion and C.E. Units are available
The fee is $75 (workshop, vegan refreshments, resource packet)
There is a 20% discount for registering for all three workshops ($180)
For information about the other two workshops see:
Zen & Emotional Intelligence: Managing Feelings
The Zen of Recovery: Working with Addictions
 *Certificates:  All participants will receive a "Record of Course Completion Certificate" upon request.
C.E. Units:   The course meets the qualifications for 2.5 hours of Continuing Education Credit for MFTs, LPCCs, LEPs and/or LCSWs as required by the California Board of Behavioral Sciences.  Those requesting C.E. Credits are required to sign in, provide their license number and complete a brief course evaluation to receive a "Record of Course Completion for C.E. Units Certificate."  The C.E. Provider is the Zen Center of Orange County, Deborah Barrett, Ph.D., #PCE 2608.