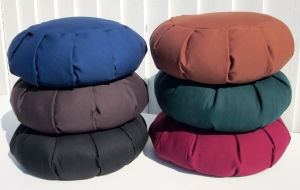 The zafu, or round cushion, is basic equipment for seated meditation.
Another mat (zabuton) may be placed under the cushion.  Small support cushions may be used to cushion the knees, ankles or to give additional height to the zafu.
You may purchase these items at Zen Home Stitchery.  You can arrange to pick up your cushion at the Zen Center before a program or have it mailed.
For details and pricing, see Zen Home Stitchery at www.zenhomestitchery.com
Zen Home Stitichery is owned by Carol Aguilar, one of the teachers at ZCOC. She has been making and supplying cushions to practitioners around the world for over 25 years.