Zen Retreat Day: Meditation & Mindfulness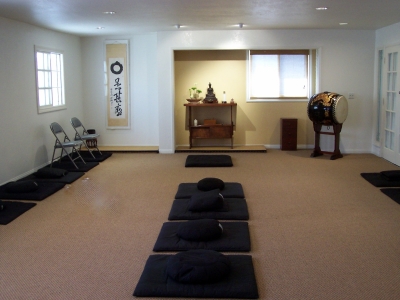 Schedule for 2018:
( All dates are Sundays, 10 am to 7 pm)
Feb. 11
Apr. 15
June 17
Aug. 12
Oct. 14
Dec. 9
(For information about longer retreats,  contact the Zen Center.)
Practice being awake and living whole-heartedly in a simple, structured, community environment.
Experience a deeper level of meditation and living in awareness in each moment.
Features of the One-Day Retreat:
Brief, basic instruction in seated meditation
Orientation to a day of awareness & mindfulness activities
Quiet, silence and stillness
Two vegan meals (buffet style), snacks, walking meditation, breaks for nap or neighborhood walks, and simple work practices
Flexibility:
The schedule offers flexibility to accommodate newcomers and those with special needs
It is suitable for those who can sit a minimum of 4 meditation periods of 30-minutes each in stillness over the course of the day (using a chair or cushion)
There is an afternoon period which allows people to do slowing walking meditation or seated meditation on their own schedule
Also included:
We end with a communal meal together (talking encouraged!) and depart promptly at 7 pm, allowing for Sunday evening at home
Arrival is at 10 am for meditation  instruction and/or orientation
Also included is a month of optional practice at the Zen Center's regularly scheduled program, at no additional charge
To see the schedule for the one day retreat, click here.
For a talk about "Practice at Zazenkai" (a one-day retreat), click here.
The retreat is $100 (tax deductible).
To register, first scroll the arrow in the menu box to select the month of the retreat, then click on the "buy now" button.
(ZCOC Practitioners should register online at the practitioner web site.)
Refund policy:
For cancellation up to the 24 hours before the retreat, there is a refund, minus $20 administrative fee.
For later cancellation, no show or early departure, there is no refund.
ZCOC is closed during intensives except to those participating in the intensive.